Channel Research
We provide all levels of Chinese TV media and other famous foreign media with the research data on the scale and spread status of media users from various scenes, such as family living rooms, star hotels, special commerce places, colleges, and universities. Based on the continuous monitoring and research on all kinds of spread channels (e.g. cable network, DBS, IPTV, OTT TV, DTMB and Satellite antenna) in the past two decades, our service also includes professional statistical support for channel management, evaluation of advertising, and expansion of video website customer service.

Behavioral Research On Video Consumption
To embrace the coming of the Big Video Age, CMMR conducted an in-depth research into the consumption behavior of 1.318 billion TV audiences and 0.731 billion online video audiences through years of large sample surveys. Specifically, we investigated the consumption habits and demands of the TV and video audiences, including the channel, place, form, frequency, content, time, pay for programs, customer's will to pay, frequently-watched program, audience's favorite program, and requirements for different programs. Our research provides comprehensive understanding and detailed insights into the video consumption market, enabling media practitioners to timely acquire the latest industrial trend, the development direction, user-media contact, and changes in video consumption. From our research data, both the media and production companies can find useful data support for strategic positioning and user demand exploration.

Video Content Big Data
CMMR has developed a Big Data solution to films & TV contents incubation and operation, suitable to explore the commercial value of films & TV works based on the analysis of films & TV market environment, the evaluation of program pattern, the prediction of films & TV market prospect, the development of marketing strategy, the assessment of spread and advertising value.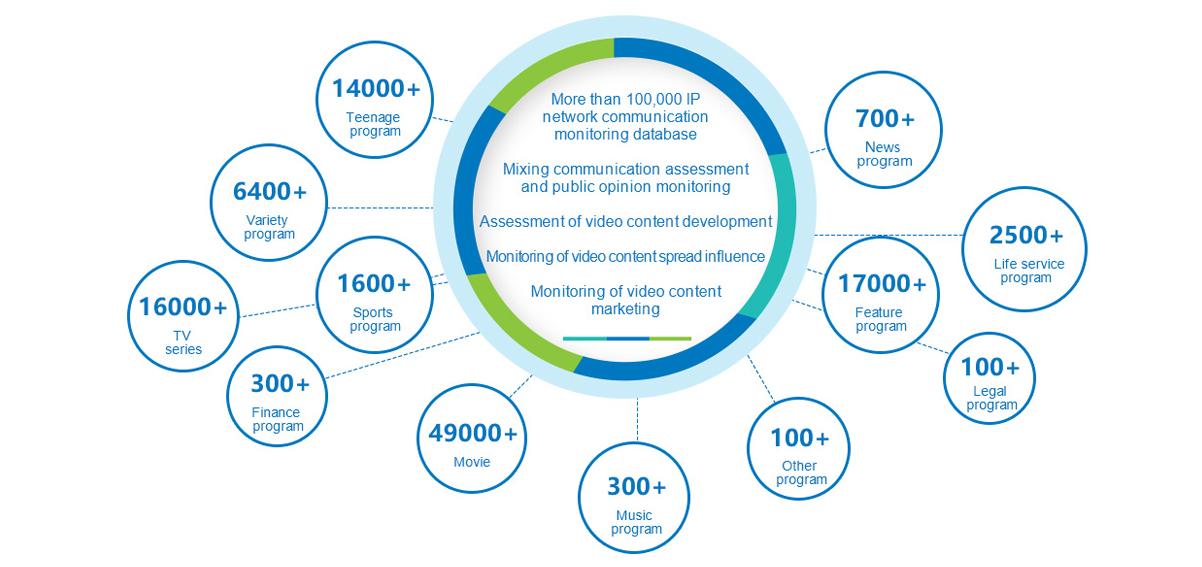 Audience Research & Insight
For years CMMR has collected extensive data and conducted in-depth research into the features, video consumption behaviors, media contact habits, and living consumption patterns of 1.3 billion TV audiences and 0.7 billion netizens. The research is not only a comprehensive analysis of family living room audience and Internet audience's integration, values, and differentiation features based on the in-depth insights into audiences' demands, but also a systematic construction combining media operation with content value creation and user fan influence from user data perspective.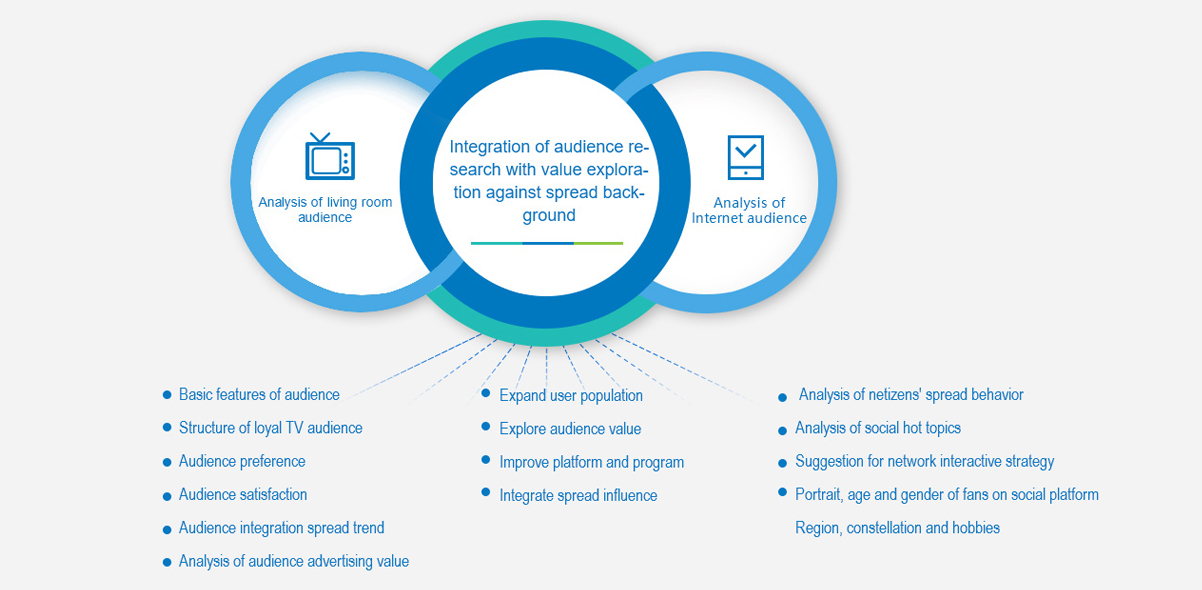 Big Data Of Entertainers
The monitoring database contains the information of personal IP network spread and influence of 19,000 practitioners from entertainment industry, including celebrities, entertainers, directors, screenwriters, etc. The Big Data solution is constructed to evaluate the network influence of films & TV practitioners through the correlation between entertainers and their works, the assessment of entertainers' influence value, the value exploration of fans' portraits, and suggestion for entertainer brand development. It is a systematic analysis based on the top 10 internet data sources and five indexes, including media exposure rate, social comments, video contribution rate, good reputation among netizens, search behaviors. Meanwhile, there is also a Big Data casting system supported by rich data resources of mass entertainers; it is the "Taobao" of entertainment industry, a commercial application and perfect combination of celebrity brokerage with films and TV works.

AD Value Assessment
CMMR monitors the whole market promotion of enterprises, provides video support and strategy consultations when enterprises advertise in films & TV works or implant advertising information, fully assesses the communication value of broadcast media and the brand influence, and maintains a real-time monitoring on the network communication effect of advertisers on the brand. Meanwhile, CMMR would also monitor and analyze the advertising environment and trend of the video industry.

Sports Marketing & Management
CMMR monitors and analyzes the sports events and programs on its network platform, the performances of sports stars, media attention, discussions on social platforms, and live broadcast and watching of sports events, and can provide systematic data support for the creation and mining of the value of sports media platforms, the evaluation of audience influences of sports events, the event promotion and strategy suggestions, network communication of sports programs, as well as the creation and mining of the social value and commercial value of sports stars.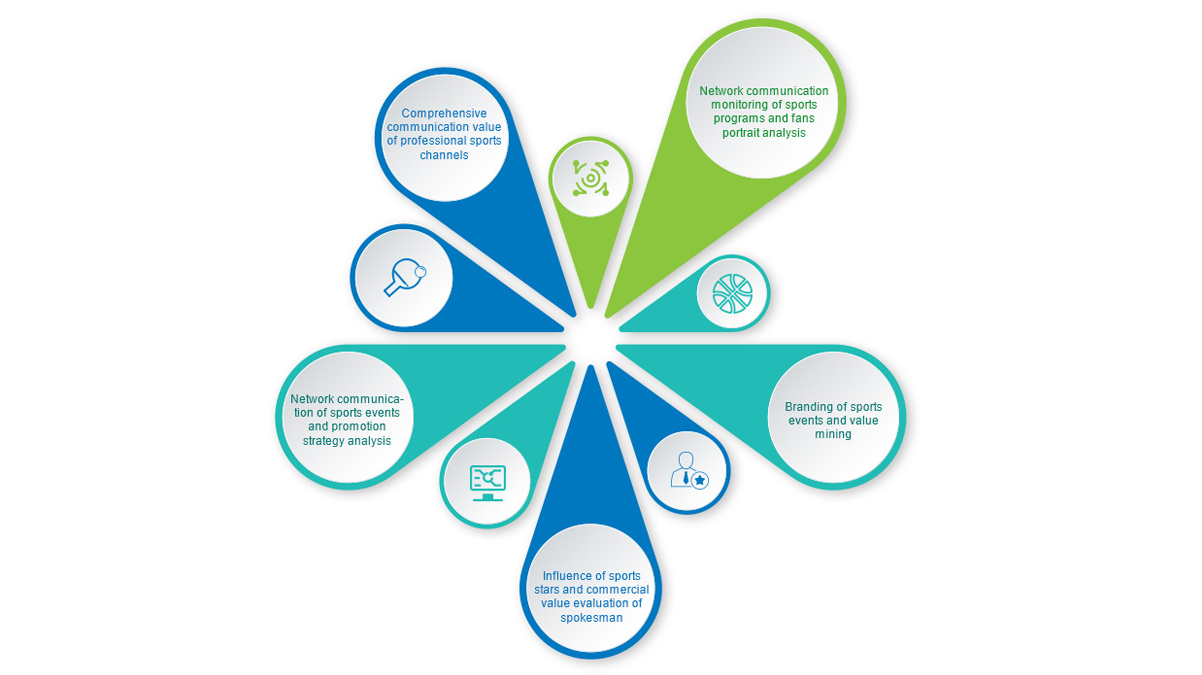 Big Data Support
CMMR uses powerful smart crawler, natural language processing and big data technology to realize the real-time collection of video transmission data, the processing and storage of massive data, the intelligent recognition and analysis of semantics, and the visualization of big data platform, thus enhancing the industrial data application and decision-making efficiency. Meanwhile, CMMR provides data tag library, data base docking and data platform construction services for the industry based on its powerful underlying database and rich big data technology experience.